A VEHICLE FOR SOCIAL CHANGE
Two amateur sporting clubs were the victors at the 2013 Jack Cheetham and Letsema Awards.
The awards held in conjunction with the South African Sport Confederation and Olympic Committee (SASCOC), reward those who contribute to the development of sport in South Africa.
The Jack Cheetham Award for sports development projects for able-bodied persons was awarded to the Bethelsdorp Wrestling Academy, while the Letsema Award for people with disabilities went to Mandeville Aquatics Disability Swimming Centre of Excellence. Both projects won R500 000 payable over five years.
For Group Chief Executive Henry Laas, these awards are a way for Murray & Roberts to actively make a difference. "We are constantly inspired by the way in which these projects use sport as a vehicle to transform the lives of so many young South Africans. As has been the case with the previous winners of these two awards, we believe that with financial assistance they will have an even greater positive impact in future."
SASCOC CEO Tubby Reddy said: "As an Olympic movement, we render our undivided support to awards like these as they encourage our athletes and sports clubs to maintain a positive and winning spirit. Talent identification starts with these amateur sports clubs. That talent is then nurtured in order to produce winners all the way to international level."
Winner of the Jack Cheetham Award: Bethelsdorp Wrestling Academy
Bethelsdorp Wrestling Academy is a programme to uplift children from communities in Bethelsdorp, Jacksonville, Gelvandale, Kwazahkele and Kleinskool in Port Elizabeth that are affected by drug abuse, gang activities and poverty. The academy provides an environment of self discovery, mutual respect and discipline and takes vulnerable children off the street. Bethelsdorp Wrestling Academy took home seven gold medals, six silver medals and one bronze medal at the South African Regional Championships in September.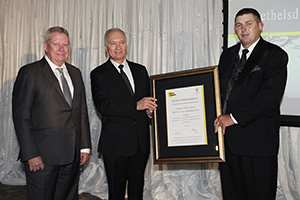 Winner of the Letsema Award: Mandeville Aquatics Disability Swimming Centre of Excellence
The Mandeville Aquatics Disability Swimming Centre of Excellence's mission is the development of swimming in Central Gauteng's disabled communities with a focus on previously disadvantaged children. The Centre of Excellence identifies talented swimmers and develops them to a level where they can compete successfully at National and Paralympics level with the objective of developing South Africa's first black Paralympics swimming medalist.
ABOUT THE AWARDS
The Jack Cheetham Memorial Award was initiated by Murray & Roberts 32 years ago in recognition of the special qualities of Jack Cheetham, a former director of the company and the inspirational captain of the South African cricket team in the 1950s who was able to instil in young people the belief that they could win. The award targets sports development projects, focusing on individuals or teams that have the potential to be champions.

The Murray & Roberts Letsema Award was first awarded in 2009 following the outstanding performance of athlete Hilton Langenhoven who captured the attention of the world at the 2008 Paralympics in Athens. This award recognises sports development projects for people with disabilities.