R300 million invested in skills and small contractors
Murray & Roberts invested more than R300 million in skills, enterprise and community development projects in 2013. This equates to nearly 1% of the Group's turnover and almost a third of its profit after tax.
The bulk of this expenditure (R160 million) was directed at internal training and development, of which R110,3 million was invested in South African operations. Investment in the Group's enterprise development initiatives totalled R143,4 million, while another R15 million was spent on community development projects.
"I don't think there has ever been a more important time for the construction sector to demonstrate that it is committed to the growth and sustainability of the sector, especially when it comes to skills development and supporting smaller contractors," says Henry Laas, Group Chief Executive.
The more than R100 million skills development investment in local operations spans the entire organisation from leadership development programmes to artisan skills training, as well as engineering bursary schemes and secondary and tertiary education bursaries for employees and their families.
The investment favours South Africans as the majority of Murray & Roberts' 33 000 employees are based in southern Africa.
"This could be the start of a new way of undertaking large construction projects in South Africa."Laas believes that a successful, sustainable construction industry will allow companies to continue to invest in programmes that help to train and employ more people while still lending the necessary support to emerging contractors.
"This has been a difficult year for the sector, we have paid dearly for mistakes made in the past. That said, we will continue to support Government's efforts to create jobs, stimulate small business and develop the skills our country so desperately needs."
This is especially important given large-scale projects like the 18 Strategic Infrastructure Projects (SIP) envisaged for the country as part of the National Infrastructure Plan that will have a positive impact on skills development, economic growth and the creation of jobs.
Creating jobs that match employers' needs
"We need to invest in the right kind of skills development," says Laas. "There are thousands of workers that are able to work on large-scale construction and engineering projects but we need to ensure that they are skilled in the right areas, that we create employment and that we are able to keep them employed."
The company believes this requires a show of commitment from both the public and private sector clients, through their roles as catalysts of growth.
"While we know that we are more able to deliver on our mandate to train and employ when we are a sustainable industry, we also understand that right now, there is a need to invest in people and emerging contractors. This investment will ensure that when the growth comes, we are in a position, as a collective, to deliver greater employment opportunities for South African people," says Laas.
"We also need the sector to commit to increasing its skills capacity so that the industry as a whole is able to compete throughout the rest of the continent and globally."
This is a process that demands long-term commitment from industry players to invest in programmes that improve the skills base – both within and outside of their organisation – and that smaller contractors are given the support and opportunity to earn their place in the industry.
Medupi to provide post-construction employment opportunities
An initiative to help local unskilled and semi skilled workers find employment after completion of the Medupi power station project near Lephalale is setting the precedent as the largest post-construction work opportunity programme of its kind in South Africa.

Launched by state utility Eskom, the Medupi Leadership Initiative (MLI) presents the first-ever work opportunity for many of the more than 17 000 workers on site at the largest construction project in the Southern hemisphere. Eskom launched the MLI together with contractors, organised labour, local government and traditional leaders in April 2013 in an attempt to extend the benefit of employment beyond the project and to avoid community destabilisation following the project's completion.

"The MLI is the first project of this nature and scale to be undertaken in the South African construction industry. "It's a model that could be replicated at other large infrastructure projects," says Medupi power station project GM Roman Crookes. The MLI is a collaboration between Eskom and its key partners in the Medupi project, including Murray & Roberts, Aveng, Alstom Africa, Hitachi Africa, Basil Read, LPS Consortium, Lesedi and Actom.

CREATING HOPE FOR THE FUTURE

The initiative comprises job-enabling opportunities, including financial literacy courses that provide learners with the ability to manage personal finances; a 'Drive Your Life' course, which is designed to help learners take control of their own lives and to understand what options they have once the project is completed; further education and training courses; small, medium-sized and micro enterprise skills development, as well as hub expansion to provide incubation office space to entrepreneurs.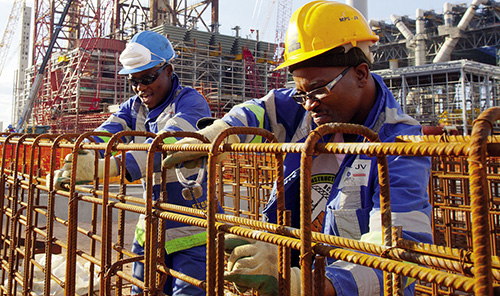 The MLI also comprises job opportunity initiatives, including 'Drylands', which provides jobs in environment restoration and rhino-poaching prevention; corporate and social investment in construction/refurbishment of community facilities; and local municipality projects in Lephalale.

"The MLI is a voluntary programme that has come to life because of the willingness and contributions of the contractors, government, organised labour and local leaders. It could be the start of a new way of undertaking large construction projects in South Africa," says Crookes.